Moms, daughters, aunts, nieces, cousins, girlfriends, this weekend is all about you! Filled with lots of outside activities, indoor crafting creations, Renee's fantastic spread and all around good vibes, this annual event is something you won't want to miss.  We'll be choosing a theme soon, and will let you know as soon as a decision is made.  Past years' themes include, A Daring Adventure for Girls and Wonder Women Weekend.  We've had barn dances, glo-in-the dark dances, a 50's sock hop, ghost story telling contests and a giant camp-wide game of  Crosley-Go (our version of Pokemon Go.) It's one of our favorite events to host because ladies of all ages come here to relax and reconnect.  We laugh a lot.  We support one another.  We refill our emotional buckets, and we leave here knowing that we aren't alone in our parenting, our partnerships and our friendships.
Date – November 13-15, 2020
Prices – Adults/Teens – $108, Children 5-12 – $88, 4 and Under – Free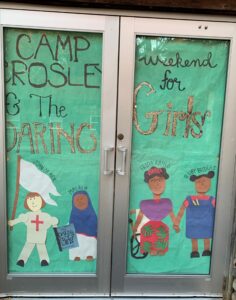 All throughout the weekend we will run our annual silent auction to benefit our Crosley for Kids program.  Guests and staff bring in items to donate to the auction, and on Sunday morning, winners are announced.  All proceeds send more kids to summer camp! This event has grown every year, and we are proud of the team effort all our mamas and daughters make to give back to camp!
Arrival is Friday night from 7-8:30 PM Eastern and Check Out is Sunday at 10 AM Eastern. This is YOUR time. You can choose how many or how few activities you'd like to do.  Want to relax with a book or play cards or sit and chat? Great.  Want to try everything out under the sun that we are offering?  Even better! Just come!
Cost includes all meals, lodging and activities.
Online registration will be available soon.